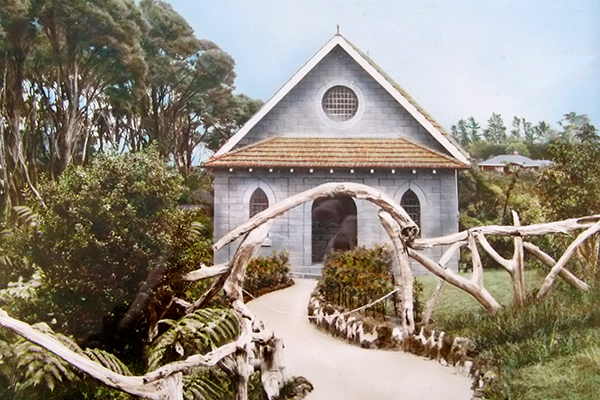 The Titirangi Soldiers' Memorial Church is a Protestant Church, built in 1922 as a memorial to those Titirangi soldiers who lost their lives in World War 1.
The soldiers' names are inscribed on a plaque inside the Church.
Officially opened by the Governor General, Earl Jellicoe, in May 1924, the bell tower was added and dedicated in May 1940.
In 1999, the Church was further dedicated to those Titirangi service personnel who lost their lives in subsequent conflicts.
All funds for the building, furnishings and bell tower were raised by Titirangi residents from the proceeds of fund raising activities, generous donations and bank loans.
The building was granted Waitakere Heritage status in 1996.
The Church is a registered charity under the auspices of the Charities Commission.
In the early years the Church was shared by the local Presbyterians and Anglicans until they outgrew the space and moved to their present sites, in 1986 and 1988 respectively.
The administering Trust comprises members of these two churches.
Since 1988, the Church has been a popular venue for
weddings
funerals
baptisms and naming ceremonies and
for meetings of Christian groups.
From 1991, the Traditional Anglican Communion has held a regular Sunday morning service in the Church.
Celtic Christian groups have also used the Church for a number of years for seasonal services.
Currently, the Community of St. Columba holds contemplative evening services at the Church on a monthly basis, to which all are welcome.